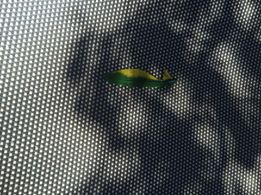 Medium Michael Wheeler joins Craig & Mandy on Star 104.5FM Breakfast.
In today's segment Janelle receives messages from her beloved Dad and Nan in spirit and precious confirmation that they still are so close to the family.
Just hours after Janelle's reading with Michael, Janelle went out for a walk only to return to find this feather (pictured at left) stuck to her front door – the sign Janelle's Nan said she'd send her!
Enjoy Janelle's reading and remember that the signs you see in your daily life are often sent from your own dear loved ones the spirit world.
Star 104.5FM – bit.ly/Ul3LRV
Comments